"I have an overdrawn directors loan account with my company. How will this affect me if the company is insolvent or having cash-flow problems?"
Overdrawn Directors' Loan Account
If you have taken dividends from your company whilst the company is insolvent these dividends are known as Ultra Vires -meaning beyond you power, or authority. In other words the director has paid him/herself when they should not have and acted beyond their powers. Commonly called illegal dividends, they may be entered on the accounts as borrowed money from the company. If you do not repay this money – it is essentially an offence from a tax perspective and this is known as an
overdrawn directors' loan account
. When a company becomes insolvent this can have serious personal implications for you if it is not addressed properly. When you consider that, on average,
over 70% of all directors in the UK
have an overdrawn director loan at some point or another it is considered to be a large problem.
So how does an overdrawn director loan occur?

The most common way is when a director takes advice from an accountant who tells them to take a minimum salary to keep national insurance and tax at the lowest levels. The remainder of the remuneration is then taken as
dividends
. At first, everything works fine until something goes wrong with the cash-flow years later and the company runs into problems. The company may not be making the same profits as before or the company may have to close due to unforeseen circumstances.
The problem also impacts on creditors. If you see it from their point of view, they may argue that you have spent their money. In any event, you become a debtor; owing money to the company. If the company is forced into
liquidation
and even in voluntary liquidation the problem is compounded as a liquidator acts for the creditors and he/she will be expected to recover this money for the creditors. Unfortunately, a
company voluntary arrangement
would still have the same issue and would not resolve the problem as the overdrawn directors' loan account would still need to be addressed appropriately. Finally, if the company is subject to a
winding up petition
the situation is in the hands of the official receiver. The overdrawn directors' loan account may make matters worse and a director could be accused of trading irresponsibly (wrongful trading), which can have serious consequences. You should seek professional advice immediately if you are faced with these situations. You can also have a look at our
common business challenges
page to get solutions to the most common challenges faced by directors.
How we can help:
If the company is forced into liquidation and you do not have anyone sitting between you and the liquidator you will be managing the situation yourself which can be pretty daunting if you do not know what you are doing and could have serious repercussions. We are very experienced in negotiating settlements with liquidators when it comes to overdrawn directors' loan accounts. There is no magic wand, however, in the vast majority of cases we can benefit all parties by helping to negotiate a mutually acceptable repayment plan.
Key points to remember:
You should not be taking dividends if your company is not making a profit.
If your company is insolvent, you must avoid taking dividends as this will add to an existing overdrawn directors' loan account.
A company voluntary arrangement may be an ideal solution for rescuing your company and helping to resolve your issues.
If your company is being forced into liquidation and you have an overdrawn director' loan account then please speak with one of the team immediately to see if we can help negotiate a mutually acceptable settlement.
Prefer to talk? To speak with a specialist now - call us for a free, confidential consultation about how to tackle your
overdrawn directors loan account
on
08000 746 757
or use our live support feature at the top of the page.
Author: Mike Smith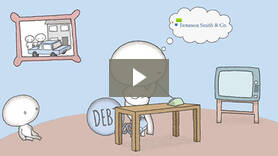 More Options & Help
Or Search Our Site
Get In Touch