What Does it Mean to Strike Off or Dissolve a Limited Company?
Striking off – also known as dissolving a company – is the process of removing a company from the Companies House register, effectively ending its legal existence. This can be done voluntarily or be imposed upon a company, depending on the circumstances.
This document aims to provide a comprehensive guide, including the legal requirements and process, eligibility criteria, implications for directors, and options for restoration.
What Does 'Striking Off a Company' Mean in the UK?
A company strike-off, sometimes referred to as dissolving a company, is the process of removing a limited company from the Companies House register[1]Trusted Source – GOV.UK – Strike off your limited company from the Companies Register.
Once the company name is removed from the register (using Form DS01), it no longer exists.
There are two types of Company Strike Off:
A Voluntary Strike Off is where the directors choose to dissolve the company. A company can only be lawfully dissolved where it is solvent and has paid all debts.
A Compulsory Strike Off is when another party – usually Companies House – petitions to have the limited company struck off. Note that only solvent companies can be dissolved; if there are any outstanding debts, they must be paid in full before the company is closed.
Dissolving a company can be a simple, cost-effective way to close down a solvent company with no assets. In all cases, it is advertised in The Gazette, which is the official journal of public record.
Striking off allows the directors to retain full control of the business throughout the process, and although creditors must be repaid before the closure, there is no requirement to hold a formal creditors' meeting.
What is Dissolution?
Dissolution and strike off are related terms, but they refer to different stages in the process of ending a company's existence.
Strike off is the action of removing a company's name from the register held at Companies House. Dissolution is the result of the strike off process.
Once the company is struck off, it is dissolved, meaning it no longer exists as a legal entity. Therefore, while the terms are often used interchangeably, strike off refers to the process, and dissolution is the end result.
Reasons to Dissolve a Company via Strike Off
There are a number of different reasons why a company's directors might voluntarily decide to bring their company to an end, such as:
Directors' retirement – If there is no natural successor either from the family or the existing management team, there may be little choice other than to close the limited company. The business owner can apply to strike off the company as long as it is solvent and has not traded, sold any property rights or changed names in the previous three months.
A new challenge – A company director may want to close an existing business to focus on something new. If the existing business is viable, selling it to an interested party is an option to consider. But, if that's not possible, directors may apply to Companies House to have it struck off. Once dissolution has taken place, any remaining assets will go to the Crown, so make sure all is in order before applying.
To reorganise a group of companies – A business may end up as being superfluous to needs. Following a reorganisation of a group of companies, a limited company may be just a shell, with its assets having been transferred elsewhere. In that case, striking off is a cost-effective way to close it down.
Unprofitability – If a limited company is not making enough money to be worthwhile and cannot grow effectively, applying for a company strike off the business could be a sensible option.
Conflict between directors – Disagreements between the company directors and shareholders are common problems. Dissolving the business may be the only option if it cannot be resolved.
Failure to get off the ground – Sometimes, a company never receives the backing it needs or gets off the ground in the way the owner(s) hoped. Dissolution may be the only route, or it may come right in the future, and then the company can be kept dormant. As long as an annual return is filed along with company accounts, it can be kept going indefinitely, removing the expense of restoring a dissolved company.
Future challenges – The business might be solvent now, but there could be challenges on the horizon, such as new market entrants or falling sales.
What do I Have to Do Before Striking off my Limited Company?
Actions to Take Before Striking Off
1. Complete all outstanding work and collect any revenue you're owed
3. Sell company assets and inventory and distribute the proceeds among the shareholders
4. Prepare final accounts and a company tax return and submit them to HMRC and Companies House.
4. Prepare final accounts and a company tax return, and submit them to HMRC and Companies House.
5. Pay any outstanding tax liabilities to HMRC
6. Ask HMRC to close down the company's payroll scheme
7. Deregister for VAT, if applicable
8. Settle the company's outstanding debts
9. Close any company bank accounts
10. Transfer website domain names and terminate any remaining monthly services, such as utilities
How do I Dissolve my Limited Company?
1. Secure Agreement from All Parties
Before embarking on the company dissolution process, obtain the written consent of both directors and shareholders. Convene a board meeting to pass an ordinary resolution authorizing the strike-off application. Record the meeting's minutes, emphasizing that all outstanding debts or obligations have been or will be settled. Directors must also sign a Declaration of Solvency.
2. Collect Debts and Settle Obligations
Make every effort to recover outstanding payments before announcing the company's closure. Delaying collection could incentivize debtors to withhold payments. Consider offering discounts for prompt payment or selling off hard-to-collect debts to a factoring agency.
3. Complete Pending Work and Contracts
Ensure all ongoing work is finalised, and all outstanding debts are paid. Fulfill existing customer contracts or negotiate early terminations. Failure to complete work or settle debts could result in personal liability for directors and shareholders.
4. Liquidate Assets and Inventory
Dispose of any remaining stock or company assets to generate funds for debt repayment, tax obligations, employee compensation, and loan settlements. Distribute any remaining funds to the company's owners.
5. Notify HMRC and Deregister for VAT
Inform HMRC of the company's impending closure by submitting final accounts, a company tax return, and letters from shareholders and directors confirming the situation. A single letter suffices if directors and shareholders are the same.
Settle outstanding PAYE, NI, Corporation Tax, and other tax liabilities. Deregister for VAT if applicable. Pay final wages and salaries to employees before requesting HMRC to close the company's payroll scheme.
6. Submit Form DS01 and Declaration of Solvency
Within 15 days of passing the resolution, send the resolution and Declaration of Solvency to Companies House. Complete and submit Form DS01 along with a £10 filing fee. A majority of directors must sign the form if there are three or more.
Upon receiving Form DS01, Companies House will verify the information and provide confirmation via mail. The strike-off application becomes an Active Proposal to Strike Off at this point.
7. Publish Notice in Gazette and Notify Interested Parties
A notice will be published in the relevant Gazette (London, Edinburgh, or Belfast) announcing the intent to strike off the company and inviting objections from interested parties within three months.
Within seven days of submitting Form DS01 to Companies House, send copies to all interested parties, including employees, shareholders, company creditors, non-signing directors, and trustees of any employee pension funds.
8. Address Remaining Loose Ends
Close business bank accounts, cancel licenses, transfer website domains, and terminate utilities and other monthly services.
9. Company Dissolution and Cessation
If no objections are raised in the Gazette notice after three months, a further notice will be published confirming the company's dissolution. The company will then cease to exist.
10. Ongoing Director Liability
Despite the company's dissolution, directors', officers', and shareholders' liabilities remain. The Court may reinstate the company if creditor claims arise. If the company trades, changes its name, disposes of assets, or enters into an insolvency process, the strike-off application will be withdrawn.
11. Unappropriated Assets Escheat to the Crown
Any remaining assets that have not been distributed upon dissolution become the property of the Crown.
How Long Does Striking off a Company Take
It takes at least three months for a limited company to be struck off the Companies House register. This is because there is a two-month period during which any interested parties can object to the strike-off. If no objections are received, the company will be dissolved and will no longer exist.
How Much Does it Cost to Strike off a Company?
For a voluntary strike-off, the cost is usually the Companies House fee of £10, plus any legal or professional fees if you choose to use a third-party service to assist with the process.
In the case of a compulsory strike-off, the company has no direct costs. However, legal or professional fees may be associated with responding to a strike-off notice or addressing any outstanding compliance issues.
Potential Drawbacks of Striking Off a Limited Company
While striking off a limited company may seem like a convenient method for closing your business, it's crucial to consider the potential disadvantages associated with this process.
1. Outstanding Debts and Creditor Objections
If the company has any outstanding debts at the time of strike-off, these debts will not be extinguished. Creditors retain the right to challenge the strike-off and potentially have the company reinstated to pursue outstanding payments.
2. Unmet Legal and Tax Obligations
Directors have a legal responsibility to ensure that all legal and tax obligations are fully met before striking off the company. Failure to comply with these obligations could result in significant financial penalties, personal liability for directors, and potential criminal charges.
3. Forfeiture of Company Assets
Any assets remaining in the company's possession at the time of strike-off will be forfeited to the Crown. This includes cash, equipment, inventory, and any other assets of value.
4. Director Liability for Wrongdoing
Directors may face personal liability for any wrongdoing or unpaid debts if the strike-off process is not conducted properly or if it is discovered that the company was insolvent at the time of strike-off.
5. Potential Delays and Objections
Creditors, suppliers, or other interested parties have the right to object to the strike-off, which can delay or even halt the process. This is particularly common if creditors have outstanding debts that they are concerned about recovering.
6. Impact on Director's Reputation
The manner in which a company is closed can significantly impact the reputation of its directors. A poorly handled strike-off process may reflect negatively on directors' judgment and business acumen, potentially affecting their ability to secure future business opportunities.
7. Risk of Future Claims and Legal Action
If the company is struck off with unresolved legal claims or disputes, claimants may still be able to take legal action against the company or its directors. This could result in significant financial liabilities and reputational damage.
8. Scrutiny from HMRC
HMRC will closely examine the company's tax records and may take action against directors if any irregularities or unpaid tax liabilities are discovered.
9. Ongoing Record-Keeping Requirements
Even after the company is dissolved, directors are required to retain company records for a specified period. This can be an administrative burden, especially if the records are not properly organized or maintained.
10. Restrictions on Reusing Company Name
Legal restrictions may prevent you from using the same or a similar company name after strike-off. This could pose challenges for future business ventures if you wish to use a similar brand identity.
Can you Strike off an Insolvent Company?
Companies House make it clear that striking off should not be seen as a cheap alternative to insolvent liquidation. The company strike-off procedure assumes the directors or company accountants have followed the correct process: to send all company creditors the DS01 form before dissolution, alerting them to the intention to strike off. If this part of the procedure is not followed, it can lead to serious potential problems in the future.
What is an Objection to a Company Strike Off?
An objection to a company strike-off is a formal challenge raised by creditors or other interested parties when they believe a company with outstanding liabilities should not be removed from the Companies House register. Creditors, including HMRC, have the right to halt the strike-off process if they have not been paid and can provide evidence of the company's debts.
While Companies House will not disclose the identity of the objecting party to the directors, HMRC is among the most likely to object if they are owed taxes and have not consented to the strike-off. HMRC's objections stem from their need to ensure that all tax obligations have been fulfilled before the company ceases to exist.
If a company with unresolved debts is erroneously struck off, creditors can also apply to have the company reinstated to the register to pursue payment. This could lead to compulsory liquidation, potentially resulting in the company's assets being sold to repay outstanding debts. Additionally, the directors' conduct may be investigated to determine if they acted responsibly and fulfilled their legal obligations.
Directors should be aware that HMRC can pursue outstanding tax debts indefinitely, with the possibility of accruing penalties dating back to when the debt was first incurred. If the debt is significant, particularly in the case of VAT or PAYE/NIC contributions, the company directors could face an investigation for fraud, potentially leading to personal liability for the unpaid taxes.
What Happens to Directors When a Company is Struck Off?
Once the company is struck off the register, there is no company and, therefore, no directors. Directors should, therefore, take immediate action in the case of strike-off action if this is something you don't wish to happen.
While most strike-offs are uneventful, there are rare instances where directors may face liabilities or disqualification.
In specific cases, directors may be held personally liable for the company's debts, such as if the company was insolvent at the time of strike-off, or if directors acted negligently or failed to maintain accurate records.
In severe cases of misconduct, directors may be disqualified from acting as directors of any other company.
Can a Struck off Company be Reinstated?
Yes, a struck-off company can be reinstated under certain circumstances. There are two main ways to achieve this:
Administrative Restoration – If a company was voluntarily struck off, it may be reinstated within six years of the strike-off date through a process known as administrative restoration. This requires an application to the Registrar of Companies and evidence that the company was actively conducting business at the time of strike-off. Former directors or shareholders of the company can make this application.
Court Order – Alternatively, a creditor of a struck-off company can apply to the court for an order to restore the company to the register. This is typically done if the creditor discovers that the company owes them money and wants to pursue legal action to recover the debt. If the court grants the restoration order, the creditor may then proceed with a winding-up petition to force the company into liquidation.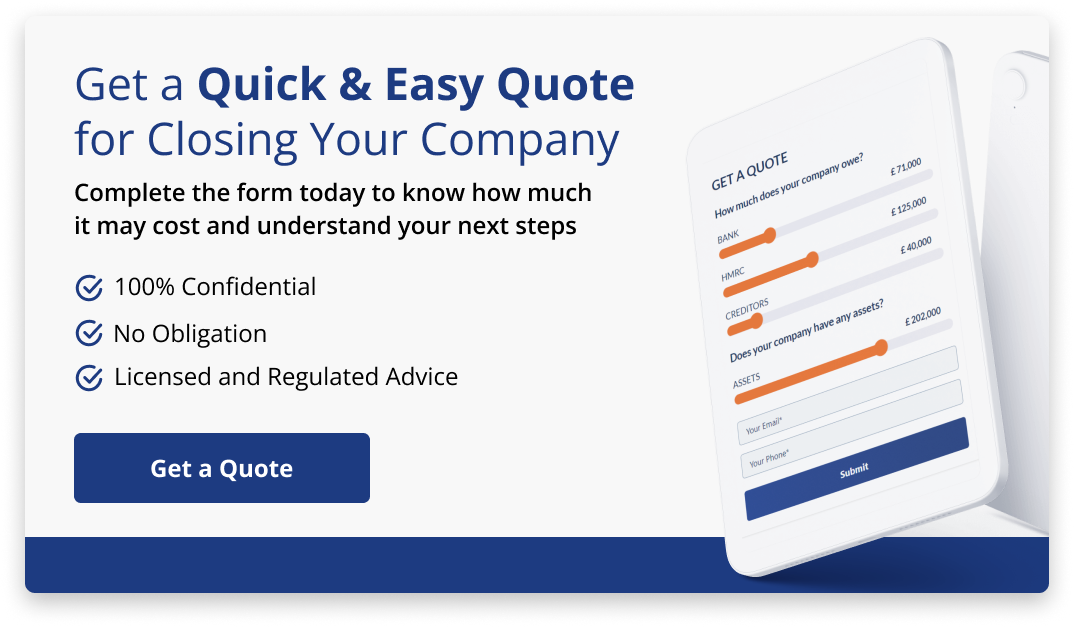 Can I Claim redundancy if my Company is Dissolved?
No, you cannot claim redundancy if the company is dissolved. A company must be a trading entity to be able to make redundancy payments. Once a company is dissolved, it ceases to exist as a legal entity and can no longer employ people or make payments to them.
FAQs on Limited Company Strike off & Dissolution
How do I apply for a company strike off?
To apply for a strike off, you must submit a DS01 form to Companies House, ensuring that you've met all the prerequisites, such as ceasing trading for 3 months and settling any outstanding debts.
What happens to the company's assets after dissolution?
After a company is dissolved, any assets that were not dealt with before dissolution may be claimed by the Crown under 'bona vacantia' rules. These assets then belong to the government.
Do I need to inform HMRC if I strike off my company?
Yes, you must inform HMRC when you apply for strike off. You'll need to settle your tax affairs and provide final accounts and a Company Tax Return.
Is it possible to cancel a strike off application?
Yes, a strike off application can be cancelled. Directors can withdraw the application if the company resumes trading, needs to settle debts, or if the company is to remain active for any reason.
Can a company still be struck off if it never traded?
Yes, a company that has never traded can apply for strike off. The process may be simpler as there should be no debts or assets to deal with.
What should be done with company records after a strike off?
After a company is struck off, you must keep all company records for seven years. This includes financial records, contracts, and correspondence.
Can a director of a struck-off company be a director of another company?
Yes, being a director of a struck-off company does not prevent someone from being a director of another company, unless they have been disqualified through legal proceedings.
Is it necessary to hold a final board meeting before applying for a strike off?
While not legally required, it is good practice to hold a final board meeting to agree on the decision to strike off the company and ensure that all directors are aware of their responsibilities during this process.
Can a Dissolved Company Continue To Trade?
No, a dissolved company cannot continue to trade. Once the company is dissolved, it ceases to exist legally and is no longer able to conduct business, enter into contracts, or manage any form of business transactions. Any activity after dissolution is considered null and void.
References
The primary sources for this article are listed below, including the relevant laws and Acts which provide their legal basis.
You can learn more about our standards for producing accurate, unbiased content in our editorial policy here.
Trusted Source – GOV.UK – Strike off your limited company from the Companies Register