How Much Does it Cost to Close a Limited Company?
There are several different ways you can close down a limited company. The right method and/or the method(s) available to you depends on the circumstances you find yourself in.
The costs of closing a company can vary very significantly from very low with a company dissolution to significant in the case of a members or creditors voluntary liquidation. You will also want to know and understand who pays.
We are highly experienced Insolvency Practitioners and company debt advisors. We can advise you on the options and costs and can also then deal with the closure for you. Please do get in contact for a free initial discussion.
In this guide, we provide a brief explanation of the different limited company closure methods, describe when they are suitable and outline the costs involved.
What are the Costs of Closing a Limited Company?
The likely costs for closing down a limited company with debts are around £5000 plus VAT, although this will change where there are significant assets to realise.
A solvent liquidation will be likely to cost around £2000 plus VAT in a simple case.
Likely costs of a Voluntary Liquidation
A creditors' voluntary liquidation or CVL is a formal insolvency procedure that is used to liquidate a limited company that is unable to pay its bills. Although the name may lead you to assume otherwise, a creditors' voluntary liquidation is a process that's initiated by the company directors. They will call a general meeting of the shareholders to begin the winding up process. A sale of company assets may cover the liquidator's fees, because the liqiodator gets paid in priority to any other creditors.
A CVL is usually the most expensive way to close a company, with the liquidator's fee costing anywhere from £3,000 to £6,000 based on the complexity of the case. If the company's assets do not cover these fees, the directors may be personally liable for the costs. However, it's worth considering that using this form of limited company closure, you could be entitled to director's redundancy pay. That averages around £12,000 and would more than cover the cost of liquidation.
Compulsory Liquidation
If your company cannot pay its bills and you have not been able to reach an agreement with your creditors, your creditors can make an application for a winding up petition to be issued against your business. If the debt remains unpaid, the court can make a winding up order to shut down your company via a process known as compulsory liquidation.
Cost: Forcing a company into compulsory liquidation is expensive. It costs creditors between £500-£800 to issue the winding up petition, around £1,600 for the court deposit and a filing fee of £280. These costs will initially be paid by the petitioning creditor, who will hope to recover them from the funds raised by the sale of the company's assets. A liquidator must also be appointed if there are assets to recover. Their fee will be around £1,500 to £3,000 based on the complexity of the case.
What are the Costs of Closing a Limited Company Without Debts?
You have two main options if you want to close a solvent limited company. The right method for you will typically come down to the value of the company's physical assets and the cash in the business.
Company Dissolution
The quickest and cheapest method of closing a solvent limited company is via a process called company dissolution, also known as voluntary strike off. This method is best suited to businesses with very few physical assets or that never really made much money. It's also well suited to businesses that are no longer active and are unlikely to be used again.
Cost: The fee for striking off currently stands at just £10. This should be sent to Companies House along with the completed form DS01.
Members' Voluntary Liquidation (MVL)
A member's voluntary liquidation (MVL) is a formal procedure that can be used to close a solvent limited company. A licensed insolvency practitioner must be appointed to realise the company's assets, repay any creditors and distribute the money among the shareholders.
Cost: Members' voluntary liquidations start at around £1,500 for companies with a small number of assets and rise to £3,000 or more when a greater number of more valuable assets are involved.
Entrepreneurs Relief
When you're calculating the cost of closing a limited company which is solvent, it's not just the cost of the closure method that you should consider. The amount of tax payable on the assets you realise will have a big impact on the money you walk away with. At just £10, company dissolution is by far and away the cheapest way to close a solvent limited company. However, something called Business Asset Disposal Relief (BADR), previously known as Entrepreneurs' Relief, is available on the assets realised through a members' voluntary liquidation. That could help to reduce the tax payable on retained profits and the gains you make through the sale of company assets significantly.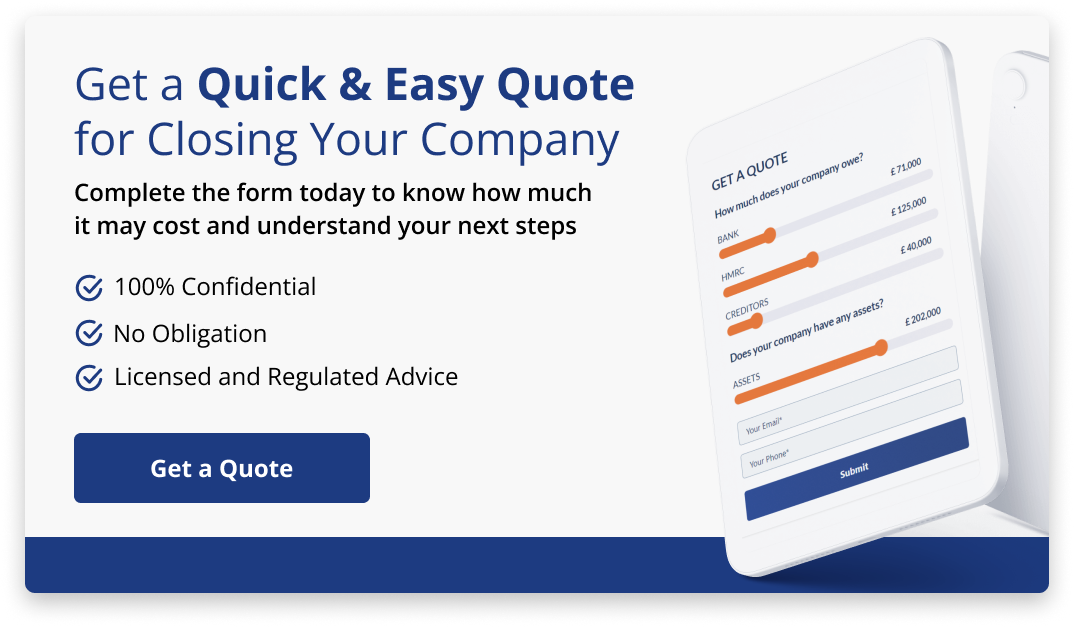 Finding the Most Cost-Effective Closure Method
At Company Debt, we can advise you on the most cost-effective closure method for your limited company based on the circumstances you are in. Our licensed insolvency practitioners are also well placed to support you throughout your company closure. Our initial consultation is free and without obligation, so please give us a call on 0800 074 6757 or start a web chat with one of our team.