"What does winding up a limited company mean? How can I wind up a business?"
Winding Up a Limited Company UK
Essentially,
winding up a limited company is just another way of saying liquidation. When considering winding up a limited company in the UK
you should first establish whether your company is solvent or insolvent. Have a look at our
'What is Insolvency'
page to find out.
If your company is solvent and you want to wind up your company then you should consider a members' voluntary liquidation.
This is relevant when winding up a company voluntarily as long as it does not have any debts.
If your company is insolvent and cannot afford to pay the bills on time then you may want to consider a
creditors' voluntary liquidation
for your company. This allows you to write off unsecured company debts that are not personally guaranteed whilst winding up a business.
Winding up a limited company can be tricky
depending on the situation as directors can leave themselves open to attack if they make the wrong move. In some cases, engaging an insolvency practitioner as your first port of call could be the worst thing you could possibly do. This is explained more on the
Insolvency Practitioners UK
page.
If you have received a
winding up petition
or a
winding up order
against your company then please seek advice as soon as you can. A winding up petition or winding up order suggests that a creditor is trying to force your business into liquidation and you may lose control of the situation once the Official Receiver or Insolvency Practitioner has been appointed.
Knowing who to trust can be hard when considering winding up a limited company so make sure you read through our
testimonials
page and if necessary, we can also arrange for you to speak with some of our previous clients as further testament to our limited company winding up services.
Prefer to talk? Speak with one of our friendly team members today on 08000 746 757 or use the live chat facility at the top of the page to get an answer fast about winding up a company. Knowing how to wind up a business is only half the battle, so get in touch sooner rather than later.
Written By: Mike Smith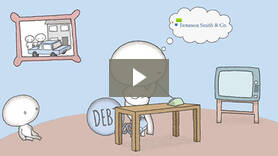 More Options & Help
Or Search Our Site
Get In Touch
company debt
we give company debt advice
company debt help
debt problems
jameson smith and co
how can we help
business debt